pages: << 1 2 3 4 5
Mosel & Eifel 2004
Düsseldorf & Köln
Tour group in front of
Füchschen inn
The remaining track went through forgotten land between Germany and Belgium on an untwisted but pothole spotted country road straight to Eupen and then up the highway to the leg's destination Düsseldorf. Rain accompanied us on the way but stopped when we reached the friendly city. And we could welcome back the Rhine river which makes a sharp bend just below the Altstadt, the old governing center of Düsseldorf and nowadays the buzzling and famous "world's longest bar". After checking in my friends to the "New Opera Hotel" I carried my stuff to befriend local resident's flat right at the market place. And finally the 20-bottle case of Augustiner beer from Munich were handed over - what a rebellion in the capitol of Altbeer. Anyway, longing already to premium Altbeer together we made a short walk through the "old town" and along the river promenade before stopping at the "Füchschen" inn.

Colored window

Kölner Dom A rich dinner with local specialties and of course several rounds of Alt beer were on our menu. In a Goya-like bar at night we sipped at cocktails and chatted till we were sleepy and went home to our beds.
On the day of parting we made a small stroll through a supermarket of nearby department store resulting in many bags full of German delicacies. Then we left Düsseldorf south to the antipode like city of Köln, laying on the western Rhine river banks. The cathedral's twin towers (157 m) were quickly in sight, but the 100 m climb up was hard. The great view from top was stunning, and also a visit to the dome's treasury with wonderful relicts from past bishops and priests was impressive. Though there was a service ongoing inside the church we could take a look from the entrance into the huge nave - gorgeous! That mighty dome is really the largest one north of the Alps.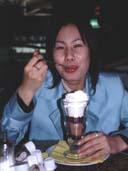 Locals here call their beer "Kölsch", though being an Alt beer, only a bit lighter in color. And the dialect is unique as well, making the inhabitants somehow outstanding, and which makes them on the other hand a bit too conceited.
After 1800 km along the Rhine river and Mosel river, through the volcanic Eifel and the historic Roman remnants we returned to the Frankfurt Airport. A wonderful trip came to an end. Many thanks to my persevering tour group. I hope you have enjoyed the four days lasting "Mosel & Eifel" journey. Yours, MIKE.
pages: << 1 2 3 4 5