pages: << 1 2 3 5 6 >>
Mosel & Eifel 2004
Trier
Porta Nigra, Trier
As the oldest German city Trier presents gorgeous remnants of the Roman dominion in walking distance. We got up early, taking a look from a nearby window to the east side of the Porta Nigra. Sleeping and eating breakfast next this 2nd century built colossal gate was somehow exciting. Visiting the fortress and representational structure and walking through the black colored Now only this gate remains to the former capital of the Western Roman Empire. A similar gate to the south, a fortification building in the east and nearly 50 round towers once demonstratively marked the giant city wall and the mighty power of their souvereigns.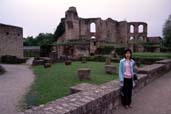 Kaiserthermen Passing the market place and the Trier dome with attached Liebfrauenkirche church we reached the Basilika and the Kurfürstenpalais. Just south through the gardens were the Kaiserthermen, Roman baths subterranean labyrinth. The catacombes produced a refreshing climate, like a historic wellness parc.
Further to the east we finally visited the Amphitheatre, an open air arena featuring spectacle and later on the unglorious combat games. Even the underground is conserved through the centuries and presents a bleak but mysterious underworld.
Returning by the city bus to our car took about 10 minutes. As it was already close to noon, we skipped the house, where famous Karl Marx was born and all the other city highlights and went on to the Eifel ...
pages: << 1 2 3 5 6 >>